The Planets where it's Raining Diamonds!
January 13, 22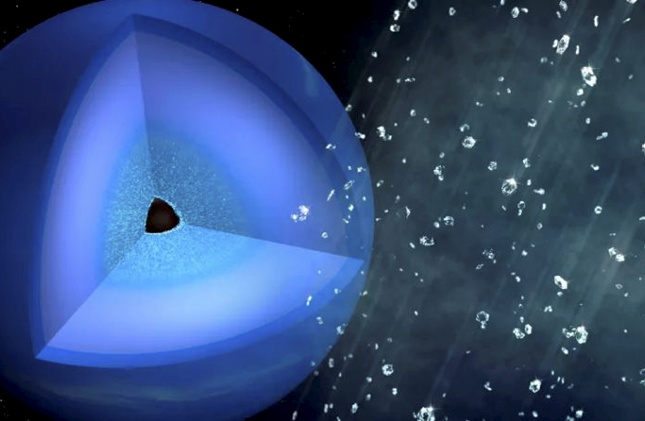 (IDEX Online) - It's raining diamonds on the surface of Uranus and Neptune, says a leading astrophysicist and research professor.
He says the water, ammonia and methane that make up much of the so-called icy planets are subjected to super-high temperatures and pressure on their mantles - 3,140 F or 1,727 C — and 200,000 times the Earth's atmospheric pressure.
"With methane, in particular, the intense pressures can break the molecule apart, releasing the carbon. The carbon then finds its brethren, forming long chains," says Dr Paul Sutter, of Stony Brook University and the Flatiron Institute, both in New York.
"The long chains then squeeze together to form crystalline patterns like diamonds.The dense diamond formations then drop through the layers of the mantle until it gets too hot, where they vaporize and float back up and repeat the cycle — hence the term "diamond rain.
"At first glance, Uranus and Neptune are just bland, boring balls of uninteresting molecules. But hiding beneath the outer layers of those worlds, there may be something spectacular: a constant rain of diamonds."
He accepts that astronomers and planetary scientists have only meager data on the so-called icy planets, which are 2.9bn km and 4.5bn km respectively from Earth.
But, he says, through a combination of mathematical modeling and laboratory experiments, "we realized Uranus and Neptune might have so-called diamond rain".
Illustration of diamond rain on Neptune courtsey Greg Stewart/SLAC National Accelerator Laboratory