Love will keep us alive
August 07, 19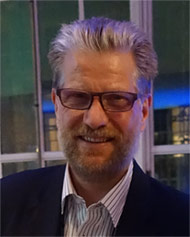 I am on holiday as of today, but I will be back well before the end of the month. Next week and the week after, you'll enjoy two Memos in a row written by two well-known industry figures. Keep your eyes pealed for them! Meanwhile, here, we'll continue our Memo series, choosing and using titles from the Eagles' (the band) last live album, Hell Freezes Over.
We all see and read the news that comes both out of the industry and from the world at large, and that it often is not very encouraging. On a macro scale, the decision of the United States' president to slap another $300 billion worth of tariffs on China is worrying policy makers and economists worldwide. For our industry, these measures are especially worrying, as they are said to include diamonds, precious stones and finished jewelry. No one can really yet gauge how these new measures will impact the supply pipeline. But this is yet another challenge, as many of you will agree, we'd rather do without.
At the beginning of this calendar year, it became clear that our industry, if not in crisis, is in turmoil. No one really knows where the economy is heading, and in our industry, there is a clear lack of direction of how to achieve growth.
However, the current market situation is experienced and discussed differently in the various parts of the pipeline. I visit and read a lot of forums on a number of different social media platforms daily, and am struck by the differences in discourse that, for example, are conducted between diamond dealers and those between retail jewelers.
It pains me to conclude that most conversations among diamond traders rarely go beyond self-pity. Everyone else is to blame, but they themselves. The producers are to blame because they are keeping rough prices high; the banks are to blame because they are not giving loans at the terms of yesterday. This group is losing business because of lab-grown diamonds, etc. etc. Seldom, will you hear a voice saying: "Hey guys, cut the BS, start investing in your product, spend money to make money."
For consolation, I turn to forums of retailers. Here are a few very good ones, closed to the public, but open to most members of the trade. And what a difference in discourse! Yes, retailers - in this case in the US - are not raving about their sales and business performance. After all, they operate in the same economy and environment. But their attitude and point of departure is so different. They are engaged in conversations focusing on how to make their businesses better, how to enthuse the consumer for diamonds and diamond jewelry, how to tell the story of love and diamonds, and, mostly, how they can help one another to make things work.
Once the diamond industry realizes that to keep the business and the passion - and love - going, you need to work hard at it and invest. Then things will look so much different and better.
In the next few weeks, that is exactly what I am going to do during my holiday with my love.