New Book Suggests Hairspray Was Key Tool in Antwerp Diamond Heist
February 15, 10
New clues have emerged in a police investigation into the world's largest diamond robbery at the Antwerp Diamond Centre in February 2003. A new book, "Flawless: Inside the Largest Diamond Heist in History," has suggested that hairspray may have been the key mechanism used to successfully break into the vaults located in the Grunberger building in Antwerp.
The U.K.'s Times Online reported Sunday that the book suggests the gang, which stole nearly £350 million ($548 million) worth of goods, disabled the vault's motion detector by obscuring its lens with hairspray and covering a microwave sensor with a polystyrene panel.
The robbers then blocked a light sensor with electrical tape and shrouded CCTV cameras. How they got through the vault door, however, still remains a mystery. The book cites detectives who speculate the gang may have picked the pocket of a concierge that had the combination's code written on a piece of paper in his wallet.
The heist was the largest diamond theft ever conducted. While estimates to the value of stolen goods range from $300 million to $500 million, to date no one knows for sure what the true value was. Some of the goods were never declared by diamantaires and therefore not insured. In addition to rough and polished diamonds, cash and other valuables were also deposited in the safe.
Leonardo Notarbartolo, the man found guilty of being the mastermind behind the heist, was apprehended with more than 2 pounds of rough and polished diamonds in Milan last July. Notarbartolo claims the diamonds found in his car are of a cheap industrial grade worth less than $14,000. However, a preliminary study by a Belgian expert found the diamonds to be a mixture of gem-quality and industrial diamonds, worth about £156,000 ($244,000).
Notarbartolo served six years out of his 10-year sentence before being released in early 2009.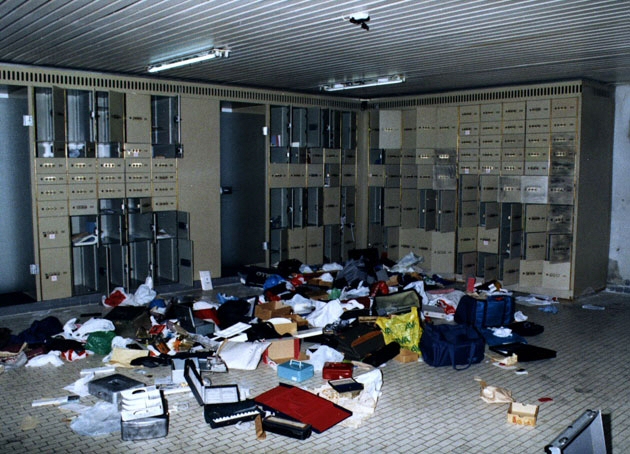 On February 16, 2003, a gang broke into Belgian's renowned Antwerp Diamond Center and pulled
off one of the country's biggest heists. Above is a photo of the ransacked Antwerp vault