Lone Gunman Makes Off With $53M of Jewelry From Cannes Hotel
July 29, 13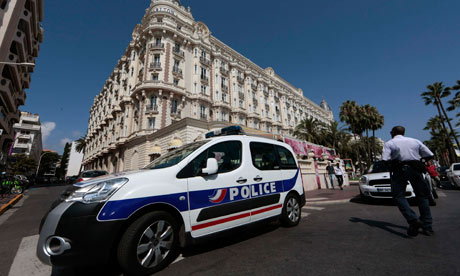 A police car outside the Carlton hotel in Cannes. Photograph:
Eric Gaillard/Reuters

(IDEX Online News)
– A man with a gun stole jewelry and watches worth an estimated $53 million (€40 million) from a luxury hotel in Cannes on Sunday in what is being described as the second-largest jewelry heist in French history.
The stolen diamonds had been on show at the up-market Carlton hotel since July 20 and were due to remain there until the end of next month in an exhibition entitled Extraordinary Diamonds. They belonged to the Leviev diamond firm of Israeli diamond tycoon Lev Leviev.
Media attention has focused on the ease with which the thief got away with his haul. Wearing a mask and gloves and carrying a briefcase, he walked into the exhibition room, threatened staff and visitors and filled the briefcase with jewels and diamond-set watches before calmly walking out.
"It was all over very quickly. There was no violence," a French police officer said. Police suspect an accomplice was waiting outside to help a quick getaway.
It is the third big jewelry theft from hotels in the Cannes area in less than three months. Thieves got away with in excess of $1 million worth of Chopard jewelry in May during the prestigious Cannes film festival.
The following week later a necklace said to have a value of $2.5 million belonging to Swiss jeweler De Grisogono went missing after a celebrity party at the nearby resort town of Cap d'Antibes.
Ironically, given the high-profile setting and top-end jewelry displayed, the thieves' job may be easier than it seems, since French police unions have said they cannot provide the level of security needed to prevent thefts.