Inhorgenta Munich Show Expects 5% Rise in Exhibitor Numbers
February 15, 17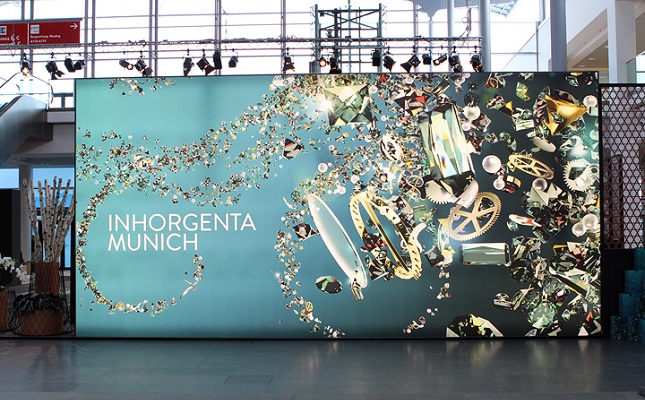 (IDEX Online) – The Inhorgenta Munich trade show for jewelry and watches expects a five-percent increase in the number of exhibitors for the February 18 to 21 fair.
"Around five percent more exhibitors and five percent more space—this is a strong confirmation of our work," said Klaus Dittrich, Chairman and CEO of Messe München. "In addition, we can even now record clearly more pre-registrations among trade visitors than in the previous year," he added.
There will be 987 exhibitors from 40 countries spread over around 64,000 square meters.
Watch brands like Doxa, Traser H3 or Victorinox will exhibit for the first time, the fair organizers said in a statement. Other newcomers will be Colpo & Zilio, London Pearl, Roberto Demeglio and Zoccai. TT Trendtime with the brands Guess, Daniel Wellington and Ice Watch, have considerably enlarged their booth at this year's event as has the Fossil Group.
The highlight of the trade show will take place in the evening of February 19 at the Postpalast München when the Inhorgenta award will be presented. This distinction for special products and services of the jewelry and watch industry is awarded in six categories: "Fine Jewelry—Brand of the Year", "Fashion Jewelry—Brand of the Year", "Designer of the Year", "Watch Design of the Year", "Retailer of the Year" as well as the audience prize "Best Piece of Jewelry".
There will also be a varied seminar program, including Creative Evangelist of Google, Jeremy Abbett. Dr. Jens Rothenstein from the IFH Institute for Retail Research will speak about online shoppers, while Jörn Weiss, CEO of the Internet agency Weiss & Urban, will give a lecture on digital branding.
Meanwhile, at the Gemstone Forum, international gemologists, such as Richard Drucker, Joanna Hardy, Yianni Melas and Dr. Claudio Millisenda, will give lectures.