Mountain Province Diamonds Reports Net Loss For 2016
March 30, 17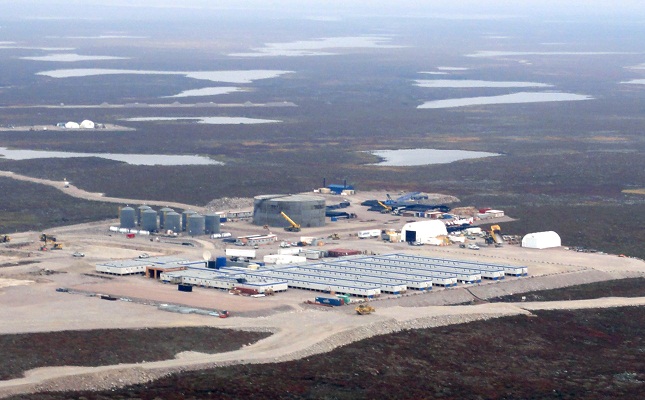 (IDEX Online) – Mountain Province Diamonds Inc. reported a net loss of CAD$8.3 million for the three-month period and for the year ended December 31, 2016. Net income for the period was CAD $4.8 million.
As of December 31, the company had drawn $332 million of its $370 million loan facility and at March 28, 2017 an additional $25 million, leaving a balance of $13 million which will be used to cover the June and September 2017 interest payments. At December 31, 2016, the company had cash and restricted cash totaling $90.7 million.
At March 31, the company is subject to maintaining a cash call reserve account balance of approximately $27.9 million. On March 27, the lenders provided a waiver whereby the amount is now to be funded by May 31. As a consequence of lower than planned production and sales levels in the first quarter of 2017, the company expects to require further waivers in respect of other reserve account funding requirements at September 30, 2017. There are no assurances the lenders will accommodate further waivers or amendments the company will seek, Mountain Province said.
Mountain Province President and CEO Patrick Evans commented: "As previously reported, winterization issues impacting the mine conveyor systems affected the ramp-up to commercial production, but these issues have now been largely resolved with the build-up to full production expected to be achieved by mid-year.
"Attendance at the company's first three diamond sales has been good, but rough diamond buyers remain cautious bidding for production from a new mine. This price discovery period is expected to extend to mid-year, when our first production will be sold into the polished market. Demonetization in India also impacted both the demand for and realized prices achieved at the company's early sales of ramp-up diamond production. As liquidity returns to the Indian diamond sector, we expect to see improved demand and pricing for our production."
"Having declared commercial production this month, the company expects to be able to provide 2017 production and revenue guidance during the second quarter of 2017."
Mountain Province Diamonds is a 49% participant with De Beers Canada in the Gahcho Kué diamond mine located in Canada's Northwest Territories. Gahcho Kué is the world's largest new diamond mine and projected to produce an average of 4.5 million carats a year over a 12 year mine life.
Physical construction of mine was substantially completed at June 30, and the commissioning of the diamond plant took place during July. Ramp-up to commercial production commenced on August 1, and commercial production was declared on March 1, 2017 after the mine achieved approximately 70 percent of nameplate capacity of 8,333 tonnes per day over a 30-day period.
Approximately 1,361,223 carats were produced prior to declaring commercial production on March 1, 2017, of which approximately 668,449 carats, or 49 percent, is the company's share.
As at March 29, the company conducted three diamond sales through its diamond broker in Antwerp, Belgium. The results of the company's first quarter diamond sales will be announced with the 2017 first quarter financial results.