STPL Presents ROBOT for Diamond Processing
December 06, 17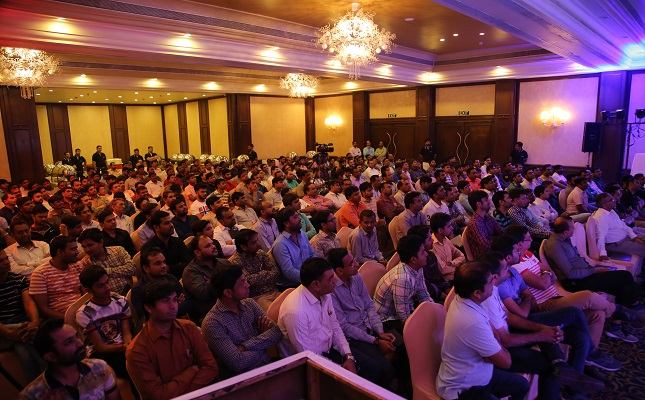 (IDEX Online) – India's STPL, which develops technological solutions for the diamond industry, has launched an Artificial Intelligence (AI) powered ROBOT, the first ever for the entire global diamond industry. The ROBOT has been developed with local technology.
STPL launched the ROBOT, which the company says is designed to make diamond processing completely accurate, rapid and human error-free, at the ROBOMATION show (PICTURED ABOVE) in Surat on December 1-2.
"Without any human touch or intervention, the ROBOT picks and places a rough diamond at its place with utmost precision, removing all the chances of human errors," the firm said in a statement. If fetches processing instructions from a competent machine, without any human intervention, and as the processing of diamond cutting is completed according to required dimensions, the ROBOT automatically lifts it up from the platform and places a new one in its place.
STPL also launched an array of its innovative, advanced Next Generation series of diamond processing machines.
Dhirajlal Kotadiya, Chairman, STPL said, "With the Make in India initiative, India is emerging as a new leader in innovative advancements and to complement these efforts, we at STPL, have made a historic contribution to the global diamond processing industry."
CEO Rahul Gaywala said, "Automation in diamond processing is the inevitable need of today and STPL, with its path-breaking innovations, has been the global leader for years. But our goal has always been to be a step ahead. I am confident that AI-powered ROBOT will help the whole diamond industry take a quantum leap in terms of accuracy, speed, and profitability."