Industry Executives Gather for GIA Global Leadership Program at Harvard
July 29, 18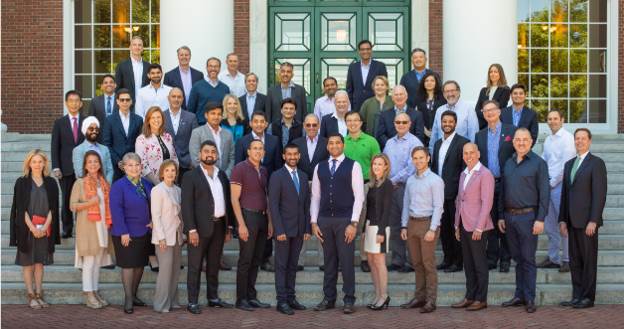 (IDEX Online) – Industry executives convened in late June for the GIA's Global Leadership Program at Harvard Business School (HBS).
The annual program in Cambridge, Massachusetts offers a unique opportunity for gem and jewelry executives to explore innovative solutions to industry challenges using the renowned HBS case study method, the GIA said.
The 42 industry leaders – all CEOs or senior executives – from 11 countries examined the theme "Unleashing the Power of People: Genuine Leadership." Upon successful completion, participants were awarded a HBS certificate of program completion.
"What a great opportunity to be part of such an experience at the Harvard Business School along with a powerful cross-section of industry leaders. It was engaging and thought-provoking and insightful," said Stanley Zale, vice president of diamond and gemstone procurement at Stuller, Inc.
Developed by HBS and led by renowned Harvard faculty, the GIA Global Leadership Program focuses on new research and best practices, delivering practical value and actionable techniques. From June 25 – 28, the 42 senior leaders representing all areas of the industry – from manufacturing to retail – drew on Harvard's vast repository of business intelligence and participated in interactive lectures and small study groups to explore the theme "Unleashing the Power of People: Genuine Leadership." This theme examined how senior executives and developing professionals can cultivate traits found in the leaders they most admire.
"We are thrilled to offer a leadership immersion program with Harvard Business School," said Susan Jacques, GIA president and CEO. "Since 2014, GIA's Global Leadership Program has helped industry leaders develop their fundamental tools for global business - strategy, customer centricity and leadership."
For the first time, the HBS will offer a unique educational opportunity at GIA's International Gemological Symposium – Oct. 7-9, 2018 in Carlsbad. Professors from the HBS will lead a track on business concepts and innovations using HBS renowned case study method. To register and for more information on the program, related events and hotel accommodations, visit symposium.GIA.edu.
Participants of the 2018 GIA Global Leadership Program (alphabetical order): Mike Alexander, Jewelers Mutual Insurance Group; Lita Asscher, Royal Asscher Diamond Company; Rami Baron, Q Report; Rashil Bhansali, Samir Gems Group; Sanat Bhindi, Bhindi Jewelers; Dave Bindra, B & B Fine Gems; Caryl Capeci, Hearts On Fire; Daniel Cohen, Swarovski; Meir Dalumi, Dalumi Group; Rohit Dhamani, Dhamani Group; Brijesh, Dholakia, Hari Krishna Exports Pvt. Ltd.; Shreyans Dholakia, Shree Ramkrishna Exports Pvt. Ltd.; Barb Dutrow, Louisiana State University and GIA Governor; Peter Engel, Fred Meyer & Littman Jewelers; Matthew Fink, Fink's Jewelers; Myriam Gumuchian Schreiber, Gumuchian; Michelle Ickowics, Rapaport Diamond Corporation; Tom Insley, Dermata Therapeutics and GIA Governor; Alex Johnson, Diamond Cellar Holdings, LLC; Sudhir Kakadia, Sheetal Group USA, Inc.; Dennis Kao, Platinum Guild International (Shanghai) Co., Ltd.; Leanne Kemp, Everledger; Robert Kempler, Richline Group, Inc.; Anish Kothari, Diamond Jewelx India Pvt. Ltd.; Lowell Kwiat, Kwiat; Marvin Ma, Lee Heng Diamond Group; Anna Martin, GIA; Tim Matthews, Jewelry Television; Parish Mehta, Shinestones, Inc.; Nathalie Moro, DIACORE; Tom Moses, GIA; Niveet Nagpal, Omi Gems, Inc.; Pritesh Patel, GIA; Dhara Piyush Patel, Dharmanandan Diamonds Pvt. Ltd.; David Rotenberg, David Craig Jewelers; Abhishek Shah, IDD USA LLC; Parva Shah, Ankit Gems Pvt. Ltd.; Michael Steinmetz, Leo Schachter New York; Ichiro Uchihara, Uchihara Group; Smit Virani, KARP; Stanley Zale, Stuller, Inc.