De Beers Total Revenue in H1 in Line With Year-Earlier Figure
July 28, 18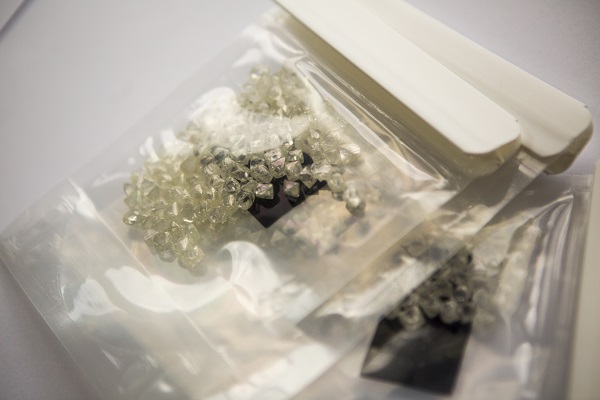 (IDEX Online) – De Beers' total revenue in the first half of 2018 of $3.2 billion was in line with the corresponding period last year ($3.1 billion), while rough diamond sales were maintained at $2.9 billion, said the miner's parent company Anglo American.
The average realized rough diamond price increased by 4% to $162/carat (H1 2017: $156/carat) due to a 1.6% increase in the average rough price index and an improvement in the sales mix, driven by the substantial volumes of lower value goods sold in H1 2017, following the Indian demonetization program in late 2016. Excluding this impact, the average value of the production mix was lower in H1 2018 as a higher proportion of lower value carats was delivered from Orapa (Botswana) and Gahcho Kué (Canada). Consolidated sales volumes of 17.8 million carats were 3% lower (H1 2017: 18.4 million carats).
Other revenue includes Element Six, where revenue was in line with the corresponding period last year, and De Beers Jewellers, the results of which have been consolidated following the acquisition in March 2017 of LVMH's 50% holding.
Markets
Preliminary data indicates a slight improvement in global consumer demand for diamond jewelry, in US dollar terms, compared with the first six months of 2017. This was driven by growth in the US and China, and was further amplified by positive exchange rate movements in China and Japan against the dollar. The Indian market was softer in dollar terms, with prevailing consumer caution, resulting from both macro-economic factors and regulatory changes affecting the jewelry sector.
Midstream sentiment was positive on the back of strong demand from the US and China in Q4 2017, and conditions overall remain favorable, with midstream inventory within normal levels and a slight strengthening of polished diamond prices since the start of the year.
Mining and manufacturing
Rough diamond production increased by 8% to 17.5 million carats (H1 2017: 16.1 million carats), including the contribution from the ramp-up of Gahcho Kué in Canada and in line with the expected continuation of strong demand.
In Botswana (Debswana), production increased by 9% to 12.1 million carats (H1 2017: 11.1 million carats) in response to stronger market conditions. Production at Jwaneng was 2% higher owing to a 10% increase in plant throughput. At Orapa, a 16% rise in output was driven by the continued ramp-up of Plant 1, the successful restart of the Damtshaa operation and commissioning of the Letlhakane tailings plant. In June 2017, Jwaneng processed its first ore from Cut-8, which is now the mine's main source of ore.
In Namibia (Namdeb Holdings), production increased by 21% to 1.0 million carats (H1 2017: 0.9 million carats). Production from the marine operation was 2% higher following improved availability of the Mafuta crawler vessel and technology-led optimisation of the drill fleet. In addition production at the land operations increased by 99% to 0.3 million carats (H1 2017: 0.2 million carats), driven by access to consistently higher grades.
In South Africa (DBCM), production declined by 16% to 2.1 million carats (H1 2017: 2.5 million carats). The reduction was primarily due to a period of suspended production at Venetia following a fatal incident, as well as geotechnical issues at Voorspoed restricting access to the resource. Construction continues on the Venetia Underground Project, which is expected to become the mine's principal source of production from 2023.
In Canada, production increased by 37% to 2.3 million carats (H1 2017: 1.6 million carats) owing to the ramp-up of Gahcho Kué, which entered commercial production in March 2017, as well as slightly improved grades at the mine. Higher grades were also achieved at Victor, where output increased by 16% to 0.4 million carats. Victor, which has been operating successfully since 2008, is due to close within the next 12 months when the open pit is expected to have been depleted. The closure of Snap Lake, which is currently on extended care and maintenance, is progressing, with flooding having been completed and, thereby minimising holding costs.
Brands
De Beers Jewellers opened new stores at Xi'an in China and at Kowloon in Hong Kong, and launched new franchise partnerships in Russia and Saudi Arabia. In May, De Beers Jewellers launched a new online store in partnership with Farfetch, the global marketplace for the luxury fashion industry, selling its fine diamond jewelry to a new audience, shipping throughout 100 countries and via 10 language sites.
Forevermark™ is now available in more than 2,300 retail outlets and in April launched a new partnership in Indonesia, its 26th market. In May, the brand celebrated its 10th anniversary, and the introduction of its 1,000th door in China, with the launch of a new retail concept, Libert'aime by Forevermark, incorporating an innovative in-store offering with online and social media platforms, specifically focused on targeting millennials.
Outlook
The outlook for 2018 global consumer demand remains positive in most of the main diamond consuming countries, based on world economic prospects, positive consumer sentiment and continued investment in marketing.
For 2018, forecast diamond production (on a 100% basis, except Gahcho Kué on an attributable 51% basis) remains unchanged at 34-36 million carats, subject to trading conditions.