CIBJO's Ethics Commission head discusses pearl industry at UN
July 17, 19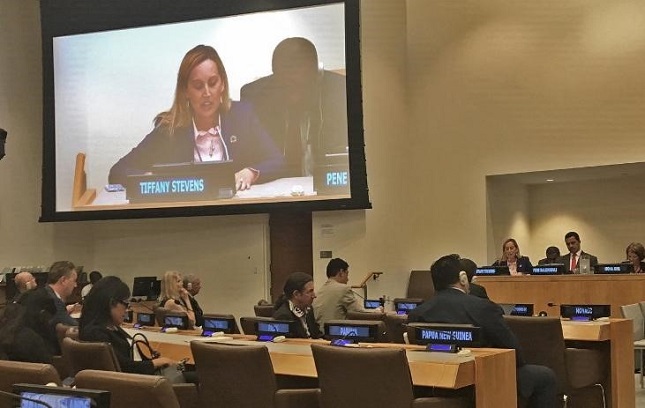 The 2019 Global Multi-Stakeholder SIDS Partnership Dialogue, which took place at the United Nation in parallel with the UN High-Level Political Forum on Sustainable Development (HLPF), focused on opportunities available to a group of 57 small-island developing states in the Pacific and Indian Oceans and the Caribbean, Mediterranean and South China Seas, examining how they may be advanced through multi-stakeholder partnerships. A "Toolbox" which includes a set of policy tools for designing, monitoring and reviewing SID partnerships was introduced at the event.
Properly managed pearl farms offer real opportunities to individuals and communities living on small islands in the South Pacific and Indian Oceans, both from an economic perspective and in terms of protecting the marine environment, said Tiffany Stevens, President of CIBJO's Ethics Commission during the 2019 Global Multi-Stakeholder SIDS Partnership Dialogue, which was held at the United Nations in New York on July 10. Indeed, she added, for a cultured pearl farm to become an economically sustainable asset, it is essential that it also be operated in an environmentally sustainable manner.
Ms. Stevens, who additionally is President and CEO of the Jewelers Vigilance Committee, the New York-based organization that provides legal advice, education and self-regulation services to jewelers and other members of the American jewelry industry, was speaking at the gathering on behalf of CIBJO.
The 2019 HLPF theme is "Empowering people, ensuring inclusiveness and equality."
"Properly managed, a pearl farm can continue producing quality products indefinitely, serving as a resource for national development through the taxes and royalties it provides, and at the local level as a source of gainful employment and community development, both directly and through the secondary economies its nurtures," Ms. Stevens stated.
What has been learned over the years, she added, is that when it comes to cultured pearls environmental, social and economic sustainability are inexorably linked.
"Over the course of its lifespan, the oysters of the most commonly used species are able to produce three cultured pearls," she explained. "The quality of these pearls will be a direct result of the conditions of the water in which the oysters are kept, and the length of the gestation period, during which nacre forms around the irritant nucleus that has been placed in the animal. If the environment is pristine, and the pearl is provided adequate time to mature under water, the chances of obtaining a higher-value product will increase substantially."
But, she noted, the cost of maintaining an optimal pearl-farming environment can be substantial, meaning that it is essential that the pearl farmers receive an adequate share of the revenues they produce, in order to encourage them to operate appropriately.