Ear Piercing "Experience" Studs Raises $3 Million in Seed Funding
November 20, 19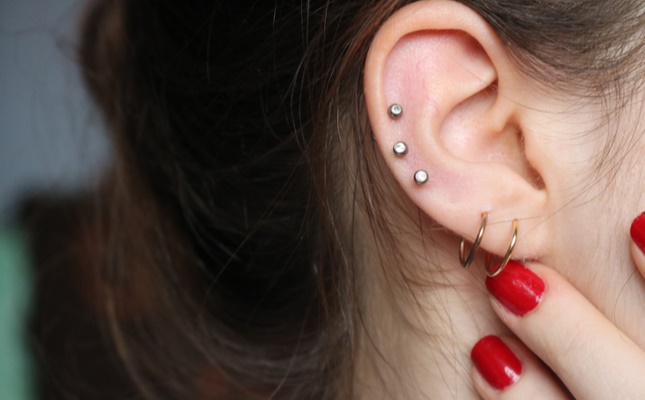 (IDEX Online) - Studs, a new ear piercing experience that opened its first brick and mortar location in New York City yesterday, also announced it has raised $3 million in seed funding.
The funding, which was led by First Round Capital with participation from Lerer Hippeau and angel investors will be used for building retail locations, enhancing the ecommerce experience and expanding the Studs team.
Studs was created to modernize the traditional "mall piercing" experience and to build a brand that encourages bold self-expression, healthy and safe piercing practices and trend-driven jewelry at an accessible price point.
"With traditional piercing retailers losing popularity and failing to meet the needs of today's consumers, there's a lack of brands in the piercing and retail landscape that prioritize healthy needle piercing, offer a trend-driven product assortment and accessible pricing," said Anna Harman, co-founder and CEO of Studs.
"By having a singular focus on the ear piercing experience from start to finish, we're confident that Studs can close the gap and deliver a service not only centered around ear piercing, but optimized for every possible need related to either piercing or jewelry in a way that no other brand is doing today."
As well as ear piercing, Studs also offers an online retail destination where customers can shop curated earscapes, single earrings, collections and access after-care.
"Gen Z has evolved beyond mall brands like Claire's and is uninspired by getting pierced at their pediatrician's office," said Hayley Barna, Partner at First Round.
"With the increasing demand for multiple piercings and jewelry styles becoming particularly trendy amongst this age demographic, tattoo parlors, which can be intimidating, expensive and limited in selection, have become more or less the default…This is a unique investment for First Round and we couldn't be more excited to be breaking into the space with a brand that is so tapped into the mind of today's consumer and ready to deliver to their high standards and ever-changing needs."