IDWI Panel Discusses Traceability and Provenance
February 13, 20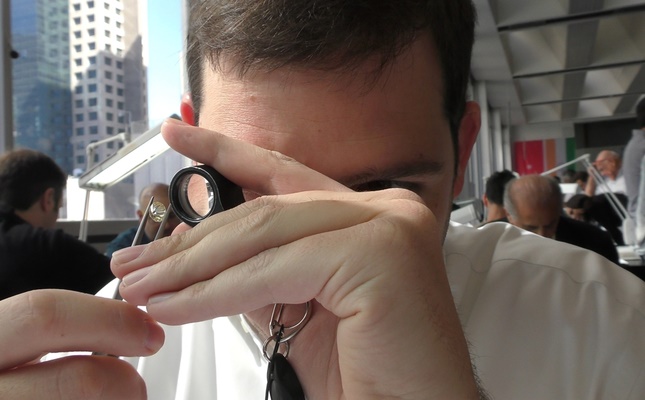 (IDEX Online) - As part of International Diamond Week Israel, a panel of experts discussed traceability and provenance in the supply chain to manufacturing and retail. The panel was moderated by Avi Krawitz, analyst and senior editor at Rapaport.
Joining the discussion were Ernie Blom, president of the WFDB; Ofir Gur, head of Diamonds and Jewelry Administration at Israel's Ministry of Economy and Industry; David Bloch, CEO of Sarine; Alexey Tikhonov, Alrosa head of Strategic Projects and Emanuel Namdar, partner in Andre Messika Diamonds (Namibia).
Among the subjects touched on were credit with Ofir Gur stressing how important it is for Israel to deal with traceability and fintech, especially because the diamond industry has a problem getting sufficient credit. He said that there were companies in Israel connecting traceability with credit, and progress in this area will help convince the banks to provide credit.
David Block said that it would benefit the entire industry if it could unite behind a single system of traceability. While offering Sarine's "Diamond Journey" as that solution, he acknowledged that there are currently many different options and said that he hoped all of these systems will eventually be integrated into a universal system.
Alexey Tikhonov noted that Alrosa's approach is to go where demand goes. He said that Alrosa is conflict-free and is protective of the environment, but it is going further and implementing tracing-enabling technology to answer the demand of the marketplace.
Efraim Namdar said that in the past 20 years the diamond manufacturing industry has done more than other luxury sectors to answer the need for traceability. However, he admitted that more needs to be done. He also argued that unlike Swiss watches or German cars, for example, the diamond industry has never exploited "origin" to differentiate its product.
He also added that his commitment to traceability has been more than just a challenge, it has been a big sacrifice since he will only buy rough for which he has strong proof of origin. "However," he said, "I see it not only as a challenge but as an opportunity."
Speaking more broadly, Ernie Blom said that while people believe in supply chain integrity, it has to be adopted by all members of the WFDB. "The WFDB has taken a decision to reach supply chain transparency, but it will take a long time to implement," he argued. "We will get to that point, but not now. So we can't create that expectation in consumers. We have to look at all the members in 29 bourses and each need to have the ability to trace the origin of the diamonds they sell. We'll work towards that but we're not there yet."
According to the show organizers, this year's IDWI was the largest AND most successful edition of the show so far.