Tiffany Ditches its New York Times Ads, after 125 Years
April 18, 21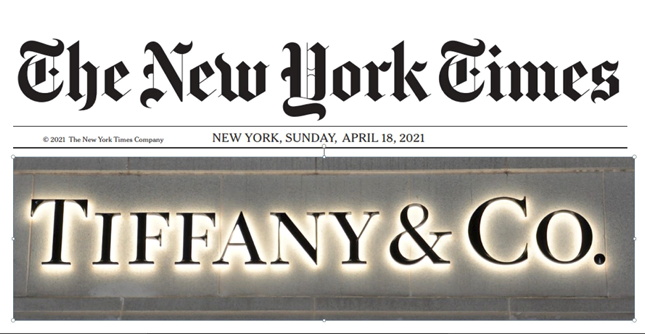 (IDEX Online) - Tiffany & Co has ended its "most consistent relationship with the public " by ditching its daily page-three ad in printed editions of The New York Times.
The tradition dates back more than a century, to 1896.
The iconic jeweler, newly-acquired by the French luxury conglomerate LVMH, will maintain a similar ad spend with the paper, says the fashion bible WWD, but will divert more of it online.
"In an ever-changing world, perhaps Tiffany & Co.'s most consistent relationship with the public over the last century is its daily advertisement on page A3 of The New York Times, which began running in 1896," said Tiffany in a 2016 edition of This is Tiffany.
The jeweler famously used the ad in 2018 to urge President Trump to remain in the Paris Climate Agreement.
Alexandre Arnault, 28, son of LVMH boss Bernard, and now executive vice president of product and communications at Tiffany, is said to be sharpening the company's social media presence and moving away from a corporate tone to one that is more personal.