Rhodes Statue will Remain, says Oxford University
May 24, 21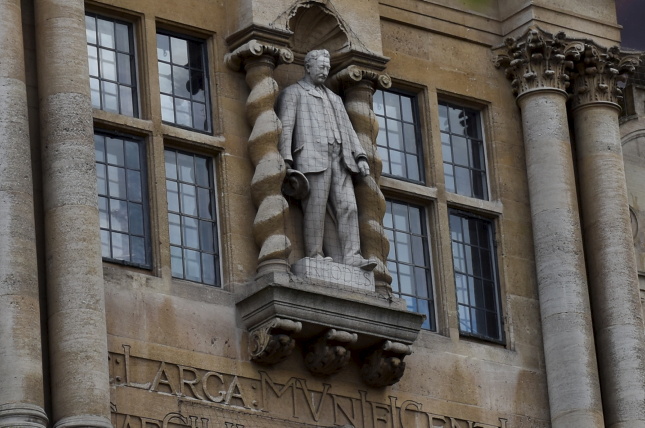 (IDEX Online) - A controversial statue of Cecil Rhodes will remain, despite a prolonged campaign, says the governing body of the college he attended at Oxford University.
It said it favored removing the monument (pictured), but had concluded such a move would be too difficult in terms of heritage and planning consent, and too expensive. The decision effectively overturns an earlier commitment to take down the statue.
The Rhodes Must Fall campaign accused Oriel College of "institutional racism".
Critics accuse the founder of the De Beers diamond empire of being a racist, a white supremacist and the father of apartheid.
The campaign to remove a statue at the college he attended received renewed attention after the murder by a police officer in the USA of George Floyd a year ago and the ensuing protests by Black Lives Matter.
Most members of a college commission set up to consider the statue's future supported removing it.
But the college said: "In light of the considerable obstacles to removal, Oriel's governing body has decided not to begin the legal process for relocation of the memorials.
"The Commission backed the College's original wish (made in June 2020 and reaffirmed again by the College), to remove the statue, whilst acknowledging the complex challenges and costs presented by its removal in terms of heritage and planning consent."
The Rhodes Must Fall campaign said: "No matter how Oriel College might try to justify their decision, allowing the statue to remain is an act of institutional racism."