Chaumet Sparkles with New 88-Facet Brilliant Cut
January 12, 22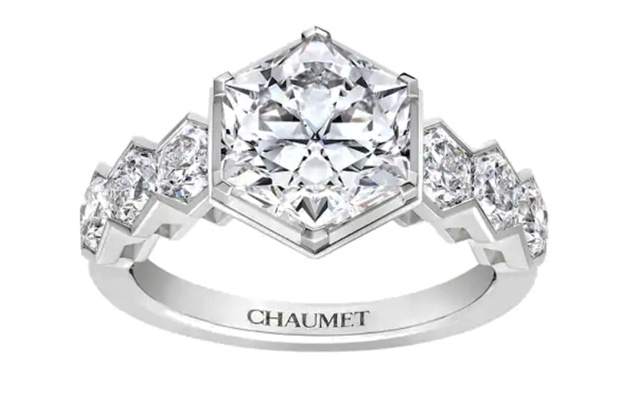 (IDEX Online) - Luxury jeweler Chaumet is showcasing a new cut with 88 facets - designed to maximize a diamond's brilliance.
The so-called Taille Imperatrice (Empress) hexagonal cut surpasses the traditional brilliant cut, says the Paris-based maison, which was founded in 1780 and bought by LVMH in 1999.
"The only diamond to combine a hexagonal shape, 88 facets and a star-shaped pavilion, the Taille Imperatrice has an exceptional shine and a brilliance superior to the market's universal reference which is the brilliant-cut," said Chaumet.
It named the new cut after its oldest client - Napoloen's wife Empress Joséphine, the Impératrice.
Taille Imperatrice diamonds feature in necklaces, pendants, bracelets and other pieces in Chaumet's Bee My Love collection.
Pic shows a white gold ring with a three-carat G/VS+ and six 0.25-cts, all Taille Imperatrice