Canada Mints Collectors' Coins with 47 carats of Argyle Pinks
May 12, 22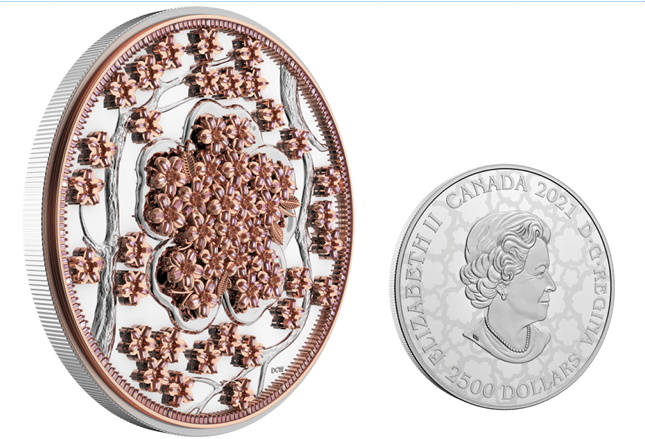 (IDEX Online) - A pure platinum coin weighing 1kg, and set with 462 fancy vivid pink diamonds (6.5 tcw) from the Argyle mine is to be auctioned.
The one-off creation is the highlight of the Royal Canadian Mint's Opulence Collection, featuring gems from the iconic Australian mine that closed in November 2020.
There are 436 coins altogether, using a total of 46.7 carats of Argyle pinks.
The Ultimate coin (pictured), which is legal tender and has a face value of CA$2,500, will be sold by the Heffel Fine Art Auction House, in Canada.
A limited edition of five Splendour 10oz platinum coins, featuring 64 pink diamonds (1.2 tcw) with a CA$253,999 price tag, has sold out, as have the 30 2oz platinum Grandeur coins, with 30 pink diamonds (0.34 tcw) which cost CA$54,999. There are also 400 gold coins for sale, weighing 1oz and each set with 0.06 tcw.
The Royal Canadian Mint describes the collection as an "exclusive numismatic masterpieces of exceptional craftsmanship featuring some of the world's rarest precious stones".