GCAL Launches Proprietary 8X Certificates
March 15, 23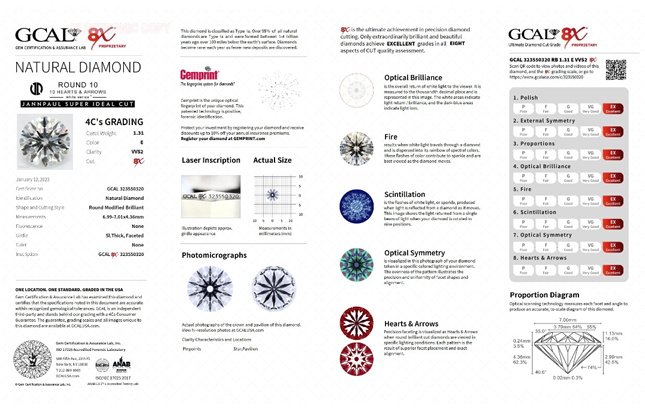 (IDEX Online) - The New York-based GCAL (Gem Certification and Assurance Lab) grading lab says its 8X Cut Grades certificates - with the added attributes of brilliance, fire, scintillation, and optical symmetry analysis - can now be customized for clients.
Their brand and logo can be added to the certificates, which were launched in 2021 to provide consumers with "a higher level of transparency" for patented and specialty cuts.
Singapore-based retailer JannPaul Diamonds, which has patents for a number of "high-performance diamond shapes", is the first to collaborate on the 8X proprietary certificates.
"Consumers drive demand and with the new GCAL 8X proprietary certifications, jewelers will not only be able to differentiate with new products, but they'll be able to keep up with the rapid shift in the demands of a new generation of consumers," said Paul Hung, the company's CEO.
The 8X certificates are designed to visually, scientifically, and accurately demonstrate cut quality for all shapes and faceting styles.
In January the Sarine, the Israel-based diamond tech firm, announced plans to acquire a majority stake in GCAL for an undisclosed sum.
Pic, courtesy GCAL, shows an 8X certificate