An Unpredictable World
March 05, 20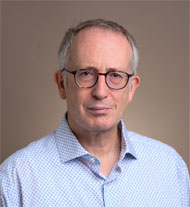 I wonder who updates the spellchecker on my computer.
Does Microsoft have a team of people scouring the internet for new words?
I only ask because I've been getting a lot of wavy red lines in recent weeks, every time I type the word coronavirus (or Covid-19, as it's now known).
A term that was virtually unknown outside the world of epidemiology is suddenly on everyone's lips.
We may be familiar with the word, but we still fear for the future. And more than the disease itself, the thing we fear most is the unknown.
"All predictions are important. Most predictions are wrong." So said Dr. Michael Ryan,
executive director of WHO Health Emergencies Programme, when asked about the future spread of the virus.
The experts do their best, but they recognize that it's ultimately beyond their control.
Or as the oft-quoted Yiddish phrase has it, Mann tracht, un Gott lacht. Man plans and God laughs.
Nobody could have predicted 3,286 deaths worldwide (at time of writing). Nobody could have predicted that my friend David would have to quarantine himself in Ra'anana, Israel for two weeks after a very pleasant skiing trip to Switzerland.
Nobody could have predicted The Louvre would close in Paris, that Twitter would send 4,800 employees home to work, that the new James Bond film would be delayed for seven months, that supermarket shelves would be cleared of hand sanitizer.
I read today about a tourist from New York, diagnosed with coronavirus during a visit to Jersualem. The ministry of health published a minute-by-minute account of her movements - the cafe she visited, the bookshop, the supermarket, the bank, and the buses she caught - and urged any of the hundreds, or even thousands, of people she may have encountered to stay ay home for a fortnight.
We like to think that lines on a graph, any graph, indicate some sort a trend, and that past performance is at least an indication of what will happen in the future. Not so.
I'm new to diamonds. My background is as a journalist writing general news for national papers in the UK. So I have everything to learn about shiny bits of carbon and how they get dug up, polished and sold.
Already I see a lot of unpredictables. Exports are down, De Beers sight holders are deferring purchases, China and Hong Kong are closed for business, India is struggling, travel restrictions are in place, people are wearing face masks and US consumers are worried to go shopping,
Baselworld, the largest watch and jewelry event in the world, canceled last week after Swiss authorities outlawed any gathering of more than 1,000 people.
And that follows hard on the heels of three other trade shows which had been due to take place this month but which have now been postponed to May - the Hong Kong International Diamond, Gem & Pearl Show, the HKTDC Hong Kong International Jewellery Show and the SEASONS | Spring - Fashion Jewellery & Accessories Fair.
But we will ride the storm. The show organizers clearly feel confident enough to re-arrange for the spring, sensing perhaps that warmer weather or a vaccine will intervene, or that Covid-19 will, as all viruses do, simply run its course. Let's share their optimism.
On a personal note, thank you to the IDEX family for such a warm welcome, and in particular to my predecessor Danielle Max, for her time and patience beyond the call of duty in showing me the ropes. I'll sign off as she did with this: Have a fabulous weekend!