Three Freedoms: Passover, Elections and Coronavirus
March 25, 21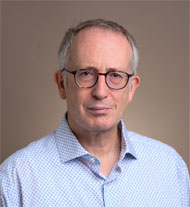 I feel free.
Free like a slave unshackled. Free like a citizen who can help shape his nation's destiny. And free like a prisoner liberated from their cell to enjoy former pleasures.
Let me explain. I'm celebrating three distinct and different freedoms this week. The first is the freedom from physical slavery granted to my ancestors in Egypt which Jews are about to celebrate this weekend with the annual Passover festival. The second freedom is democracy, having just enjoyed the privilege of casting my vote in Israel's parliamentary elections - for the fourth time in two years. And the third freedom is the near-return to normal life after a devastating year of the coronavirus pandemic. Three freedoms, all in a week, must be more than coincidence.
The first freedom - from slavery - is fundamental. The Bible tells how God brought the enslaved Jewish people out of Egypt almost 3,500 years ago and shaped them into a nation. And families still gather every year to re-tell those events. It is ancient history. But it isn't ancient history. We don't simply re-tell the events, we re-live them, eating the same unleavened bread that our ancestors did in their haste to leave before the dough had time to rise. We are celebrating not just a freedom from (chains) but a freedom to (self-determination).
The second freedom - democracy - guarantees people a say in how they are governed. It's not a perfect system, but it's the best we've got. Or as Winston Churchill famously said: "Democracy is the worst form of government, except for all the others." Having the inalienable right to decide who governs is one thing. Exercising that right with such frequency is quite another. Three Israeli elections in two years have so far failed to achieve a secure and stable government. The fourth, which took place on Tuesday, is only the starting point for weeks or even months of horse-trading and backroom deals to form a majority coalition, and if that fails, we'll have a fifth. There's no word in the Hebrew language for consensus (they just pinch the English one), which might explain why 38 parties - yes, 38 - were in the race for 120 seats. Israel is a melting pot of many cultures, many languages and a cacophony of (very loud) voices. But I feel blessed that I have the freedom to vote (and enjoy the national holiday that accompanies every general election) in a world where many millions of people still crave that right.
The third freedom is quite unlike the first two, with which we are all familiar. It's one that few of us could have even comprehended a year ago - the freedom to live a normal life, unburdened by Covid restrictions. Today I can go where I please, visit family and friends, sit down to enjoy a restaurant meal, swim in a pool, walk on a beach, exercise at a gym. I can still barely believe that I'm describing such basic activities as freedom, but the pandemic has shifted everybody's perspective. I mourn the millions whose lives have been cut short by the virus, in particular my beloved father-in-law who died of the virus in January, while being treated for an unrelated illness in a British hospital. The vaccination program, sadly, came just too late for him. But human ingenuity is now prevailing, and I am grateful for the many freedoms I and many others enjoy today, as a direct result, in a tiny country that is leading the world in the war against coronavirus. I don't understand how, but Passover, Israel elections and light at the end of the coronavirus tunnel all seem to have converged at the same moment. This Passover we will celebrate as never before, as we face the prospect of yet another election - and the freedom of yet another day off work.
Have a fabulous weekend.