Win-Win For the Diamond Industry
July 20, 23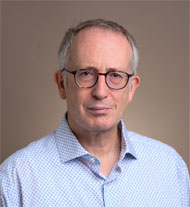 The new deal between De Beers and Botswana is a win - and a compromise - for both sides. And a win for the industry in general.
So says Paul Rowley, executive vice-president, diamond trading, at the British-based miner, after prolonged negotiations on mining licenses and sales agreements finally ended with a deal earlier this month.
Botswana's President Mokgweetsi Masisi had repeatedly threatened to walk away from the deal - in place for the last 54 years - unless he got a bigger share of the diamonds.
"Both sides started off with a win-win," said Rowley in an interview with IDEX Online after the agreement was reached.
"And if it's a win-win, then by default, you have a compromise. It's not just good for us. It's good for Botswana, De Beers, but also very much the industry."
Botswana will see its share of diamonds mined by Debswana (the 50/50 joint venture with De Beers) double over 10 years from 25 per cent to 50 per cent.
De Beers will also invest heavily in beneficiation, in developing the country's diamond industry, and by providing a long-term $750m boost to diversify its economy in other directions.
The agreement also marks a further reduction in market share for De Beers, which once had a near-monopoly on the world's diamonds.
But Rowley takes this in his stride, citing De Beers' evolving role, with major expansions at the Jwaneng and Orapa mines in Botswana, new explorations in Angola, differentiation of its Namibia diamonds, and more downstream activity, in jewelry and traceability.
"As we said before, it's very much about leading the industry. And we've continued to do that on a much smaller market share," he said. "We're very agile."
And for the industry in general, he says, a cloud of uncertainty has been lifted.
"I think the good news is that the signing of the agreement, in principle, has certainly taken one of the uncertainties away from the market, which I think is a positive," he said. "It's been very well received.
"I think we've landed in probably a fairly reasonable place that both sides feel they could have done a little bit better. And that's not a bad place to be."
Did he think, after the talks dragged on for years, that President Masisi would actually ditch the deal, as he had threatened to do?
"I think there's always a possibility, but did I think so? No not really," he said. "This has been a 54-year partnership already. And we do work incredibly closely together.
"I don't really think we ever really wanted either of us to divorce, so to speak, that was never really in any of our minds.
"I think it was really about making sure that we got to the right agreement that we're both comfortable with."
Despite the last-minuteness, negotiations were always civilized and respectful, he said.
"To be honest, a lot of this was agreed well in advance. It was a few outstanding points that we were finalizing.
"I think both sides were relieved that after a number of years we got there. And we have to understand it wasn't that these discussions were in any way acrimonious. They've just been long because they were quite complex."
After Botswana comes Namibia, De Beers second-biggest producer, with a 10-year agreement that expires in 2026. The Namibian government currently has a 15 per cent share of the diamonds mined on land and recovered at sea.
Will Botswana's (eventual) 50 per cent split, embolden them to drive a harder bargain?
"Well, I guess I'll answer that in the same way as the minister did in Namibia, that we'll deal with that in 2026 when it comes along, to be honest," said Rowley.
"We work incredibly well together, we just invested hundreds of millions of dollars in the new vessel, the Benguela Gem, which is hugely successful there. We're extending the life of land mines as well, working closely with the government."
And how are things closer to home? "Still a little bit sluggish," said Rowley.
"There are no great surprises, from our perspective, it's selling through to the numbers we were anticipating. And if anything, I think we're starting to feel a little bit of a bottoming out of that marketplace."
He said demand and supply seemed to be coming back into alignment.
"We had a marvelous 2021 into the first half of 2022 with super sales. We had a particular market in the US, having free money in some respects, and our industry did fabulously well.
"I think as we've seen the US opens up post-COVID is that the free money has disappeared, we've started to get a tightening of disposable income, and people have got more things to spend their money on."