Nicky Oppenheimer Receives IDI Lifetime Achievement Award
March 20, 12
(IDEX Online News) – In recognition of Nicky Oppenheimer's enormous contribution to the world diamond industry – and the Israeli industry in particular – the Israel diamond industry Tuesday night presented the chairman of De Beers with its highest honor – the Lifetime Achievement Award.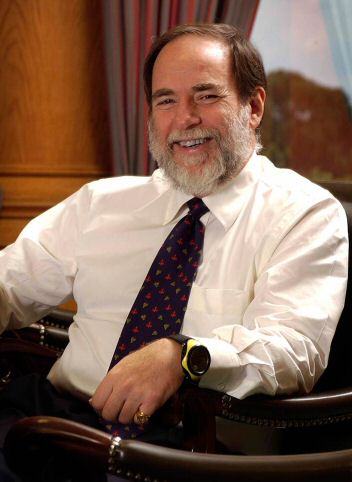 Nicky Oppenheimer
The presentation was made at a festive dinner in Tel Aviv. Guests included Israel Diamond Institute (IDI) chairman Moti Ganz, Israel Diamond Exchange president Yair Sahar, Israel Diamond Manufacturers Association president Bumi Traub and Israel Diamond controller Shmuel Mordechai. In addition to Nicky Oppenheimer, Oppenheimer's son Jonathan, CEO Philippe Mellier and DTC CEO Varda Shine, attended the dinner.
"This unique award is of the utmost significance to our industry," said IDI managing director Eli Avidar. "It represents our supreme appreciation of one who has dedicated his or her life's work to advancing the industry that we hold so dear."
Avidar added that the award was in recognition of Oppenheimer's vision, courage and inspiration, continuing a family heritage of honesty, integrity and adherence to the highest standards.
"I see this award as an honor not me but for the Oppenheimer family, past, present and future," said Oppenheimer. "From the time my grandfather moved to South Africa, the Oppenheimer family has had diamonds in its blood…You've done me, Jonathan and my ancestors an unbelievable honor."
Referring to his decision to sell his family's stake in De Beers to Anglo-American, Oppenheimer said they had reached the point where they can step aside. Although he admitted it had not been an easy decision, he said, "We know that we leave the Israeli industry and De Beers in good shape…Even if we are not invested in the diamond industry we will follow it with great expectations."
About the Israeli industry, Oppenheimer said, "I have had a long relationship with the diamond industry here. I knew when I came here that this was an industry and that these were a people I could relate to."
"What will Israel's role be in the diamond industry? I am filled with confidence because the people here are innovative, unbelievably entrepreneurial and move with the times. The diamond industry here has evolved and will continue to evolve. It will flourish on your skills and your expertise."
Earlier in his visit, Oppenheimer met with Israeli Prime Minister Benjamin Netanyahu, accompanied by Moti Ganz, Phillip Mellier and Varda Shine. Netanyahu told the group that he regarded diamonds as important to the economy and as a drawing point for Jewish diamantaires from all over the world. He also said that he regards it as his responsibility to enhance the Israeli diamond center.