Diamond Empowerment Fund Makes Award to African Leadership Academy
September 28, 16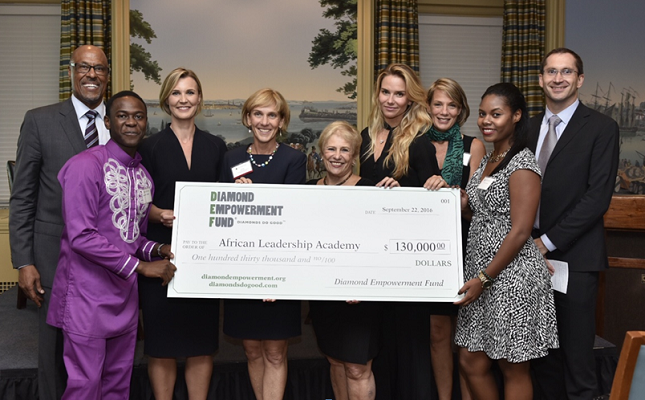 (IDEX Online) – The Diamond Empowerment Fund (D.E.F.) presented a check for $130,000 to continue the support of African Leadership Academy (ALA), bringing total support to date of just over $750,000 to help educate the next generation of leaders in Africa.
ALA, located in Johannesburg, South Africa, cultivates outstanding young students through a two-year program to prepare them for college. It stresses leadership, entrepreneurship, and African studies. Students return to their home countries after college graduation to apply what they've learned to building and improving their own communities.
D.E.F.'s check was presented to ALA co-founder Chris Bradford, chairman of the board, Liz Gips, and executive director Tim McChristian, at the Yale Club in New York City.
Witnessing D.E.F.'s donation was CNN International Anchor and Correspondent Robyn Curnow, who moderated a discussion on opportunities for entrepreneurship in Africa with Zimbabwean businessman and philanthropist Strive Masiyiwa, founder of international telecommunications group Econet Wireless, and several ALA graduates, including Bradley Opere from Kenya, current student body president of the University of North Carolina at Chapel Hill.
Says D.E.F president Phyllis Bergman, CEO of Mercury Ring, "These bright young students are a shining example of Africa's future. D.E.F is proud to support these emerging leaders who represent our 'Diamonds Do Good' mission of supporting transformative initiatives in global diamond communities."
D.E.F.'s support of ALA and other programs in diamond communities is made possible through fundraising efforts such as the annual Diamonds Do Good Awards Gala, held in June in Las Vegas in conjunction with the JCK Show.
Above from left: Tim McChristian, Executive Director ALA; Bradley Opere, ALA Graduate and current student body president of University of North Carolina; Robyn Curnow, CNN; Liz Gips, chair ALF; Phyllis Bergman, president D.E.F; Nicola Breytenback, D.E.F board member, Nancy Orem Lyman, executive director D.E.F; Raven Carey-James, Program and Events Associate D.E.F; Chris Bradley, co-founder, CEO ALA.