Jewelers Vigilance Committee Celebrates Centennial Anniversary
January 18, 17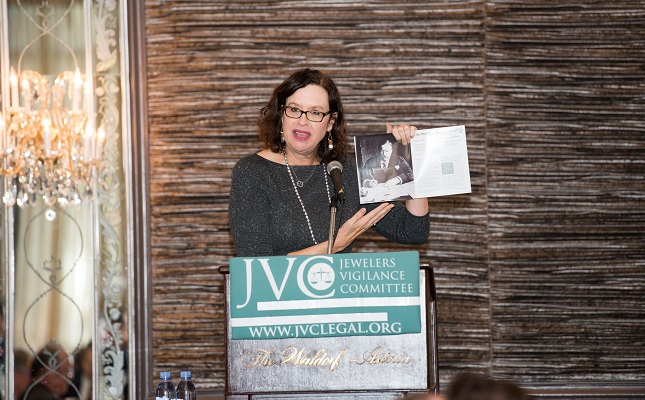 (IDEX Online) – The Jewelers Vigilance Committee (JVC) has celebrated its Centennial Anniversary with an event in New York to mark 100 years of service to the jewelry industry.
In addition, the event marked the stepping down of President, CEO and General Counsel, Cecilia Gardner, who last year announced she would be leaving the organization after 18 years. Gardner, however, will stay on until a replacement is found.
Lynn Diamond, Jeff Fischer, Douglas Hucker and GIA President Susan Jacques spoke of Gardner's work.
Steve Kaiser, JVC's Chairman of the Board, acknowledged the work of several past Chairmen: Lee Berg, Marvin Markman, Hank Siegel, Eli Haas, Bob Green, represented by his son Marc, Jeff Fischer, and Steve Kaiser's father Ben Kaiser. All, apart from Eli Haas, who could not make it at the last moment, were in attendance.
In addition, the Stanley Schechter award was presented to Joel Schechter, the son of Stanley Schechter in whose name the award was created in 2002 to pay homage to Stanley and his legacy.
"In his many years of contributions to the jewelry sector, Joel exemplifies the values of his father concerning integrity and giving back. In addition to serving on the Board of the JVC for 15 years, Joel has made his mark through constant advocacy for the betterment of our community. Joel is among JVC's most powerful advocates, for which we thank him. JVC has benefited from having a Schechter on its Board for a combined total of 40 years. Joel's dedication to fostering ethical business practices, and his overall generosity to the JVC and to many other causes are well known and make this award in JVC's 100th year especially appropriate. Stanley was a life time member of the JVC and a member of the JVC Board from the 1960s to 2000."