DEF Holds Exclusive NY Screening of A United Kingdom
January 23, 17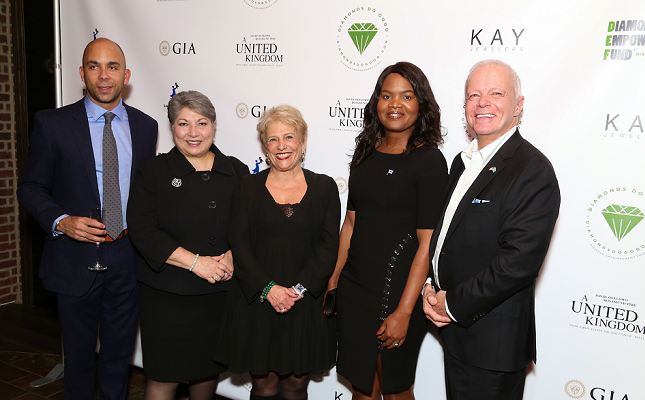 (IDEX Online) – The Diamond Empowerment Fund (DEF) has held an exclusive first U.S. screening in New York of A United Kingdom.
The movie chronicles the early years of Botswana's rise from poverty to become what is now the second-largest producer of diamonds in the world. The movie, starring David Oyelewo and Rosamund Pike, will be released to the general public on February 10.
Guests at the screening included David John Newman, Botswana's Ambassador to the United States, Charles T. Ntwaagae, Ambassador and Permanent Representative, Permanent Mission of Botswana, and Dr. Edgar Sisa, Counsellor, Permanent Mission of Botswana to the United Nations.
DEF board member Marcus ter Haar, and grandson of the film's protagonists, Seretse Khama (played by David Oyelowo) and Ruth Williams (played by Rosamund Pike), gave a poignant introduction to the film, recounting the emotional connection he has with the film's characters and spoke of the prosperity Botswana has seen in the 50 years since achieving independence.
"Through the ethical leadership and wise management of Botswana's diamond resources by Seretse Khama and the country's successive presidents, our nation has thrived politically and economically as the oldest democracy in Africa, providing its citizens with broad-based access to education, healthcare and world-class infrastructure.
Anna Martin, newly elected president of the Diamond Empowerment Fund, urged members of the diamond industry to see the film. "Botswana is a perfect example to share with colleagues and customers alike about how much Diamonds Do Good. This positive message needs to be the cornerstone of industry communications to the public so that a more balanced narrative surrounding diamonds can prevail."
Sponsors of the screening included Signet Jewelers, GIA and Fox Searchlight Pictures.
Pictured above: Marcus ter Haar, Anna Martin, Phyllis Berman, Changu Newman and David John Newman.