Eighth BrilliANT Antwerp Diamond Trade Fair Starts
January 29, 17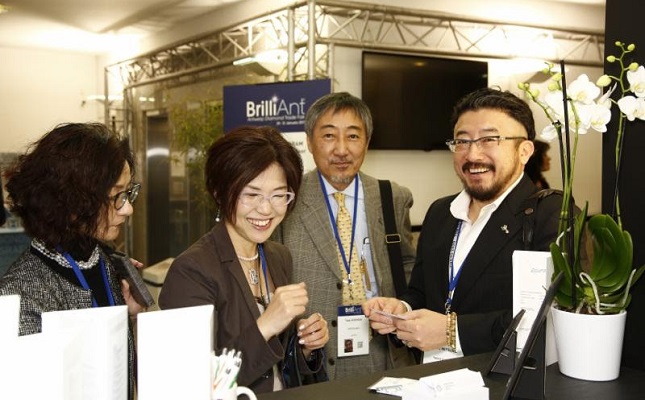 (IDEX Online) – The annual BrilliAnt – the Antwerp Diamond Trade Fair – started on Sunday, with hundreds of retail jewelers, jewelry manufacturers, and other diamond buying visitors making their way to the halls of the Antwerp Diamond Bourse and Diamond Club of Antwerp to participate in the eighth edition of the fair.
Among the buyers attending the fair are delegations from Japan, China, and the Middle East. The two trading halls welcomed buyers with a fresh look that includes newly designed exhibition booths. No less than 95 exhibitors offer diamonds in all possible sizes, qualities and shapes, as well as colored gemstones and a wide array of industry services, the Fair organizers said.
One of the highlights of the fair's special exhibits is Aaron Shum's "Eden of Coronet," a Gibson Guitar adorned with over 400 carats of Coronet diamonds, set in approximately 1.6 kg of 18K white gold. Awarded a Guinness World Records title for the Most Valuable Guitar in 2015 and has been valued at $2 million.
The show's seminar program began with a well-attended presentation by the World Diamond Mark entitled 'Driving traffic to retailers - the World Diamond® Mark Model.' The WDM offered a preview of the WDM's new consumer oriented website and programs and demonstrated how it uses digital marketing channels as the most effective and affordable marketing tools to reach consumers and drive traffic to retail jewelers.
The Fair is a joint initiative of the Bourse, Club and the Antwerp Diamond Kring, and is powered by the Antwerp World Diamond Centre (AWDC).