Mountain Province Diamonds Sees $70-$90 Per Carat Sale Price for Rest of 2017
April 26, 17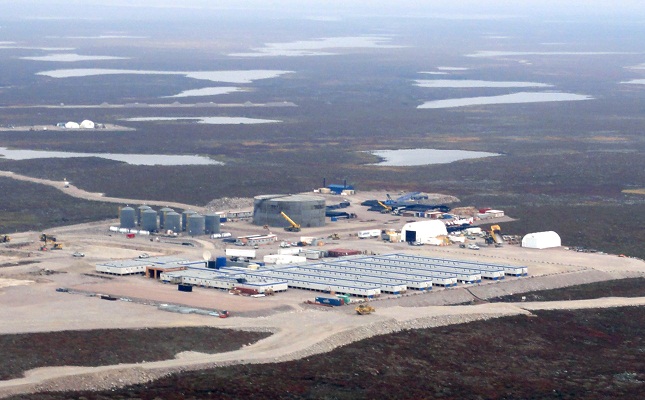 (IDEX Online) – Mountain Province Diamonds Inc. said it anticipates achieving a realized diamond price for the balance of 2017 of $70 to $90 per carat for goods from the Gahcho Kué diamond mine in which it has a 49-percent stake.
For the three months ended, the mine treated approximately 492,000 tonnes of ore through the process plant and recovered approximately 867,000 carats on a 100 percent basis for an average grade of approximately 1.76 carats per tonne. The company's attributable share of first quarter diamond production was approximately 424,830 carats.
Mountain Province President and CEO Patrick Evans commented: "The production ramp-up at Gahcho Kué continued through the first quarter and we're pleased to have declared commercial production on March 1, 2017. The ramp-up since the quarter end on March 31has continued smoothly and we expect the mine to achieve full production by mid-2017."
During the quarter the company completed three pre-commercial production diamond sales. These sales results will be reported with the company's first quarter financial results on May 11. Proceeds from pre-commercial production sales are being offset against capital expenditures. The company expects the first revenues from post-commercial production sales during the second quarter of 2017.
"The first quarter diamond sales reflect the experience of a new entrant to the market, as buyers develop familiarity with the sell-through value of the company's production. The unexpected headwinds from demonetization in India compounded customary weakness during the price discovery period. Importantly, we have seen a steady improvement in our early sales results and are very encouraged that 72 percent of the winning bidders at our March sale were repeat buyers. We expect to work our way through the price discovery period by the middle of the year when we expect realized diamond prices to reflect market conditions."
The miner added that production sold during the first quarter was sourced primarily from the upper levels of the Northeast Lobe of the 5034 kimberlite, which has a higher population of lower quality diamonds than the average for the whole 5034 kimberlite. As a consequence, realized prices achieved during the first quarter were below the expected average for the 5034 kimberlite as a whole, but are expected to improve as market conditions normalize and more production is sourced from the Center Lobe of the 5034 kimberlite."
Based on results achieved to date, the company provided the following 2017 production guidance (on a 100-percent basis):
Tonnes mined: 40 million

Tonnes processed: 2.7 million

Carats recovered: 4.4 million

Grade: 1.62 carats per tonne