Kennady Diamonds Pleased With Results Of Latest Drill Program
May 24, 17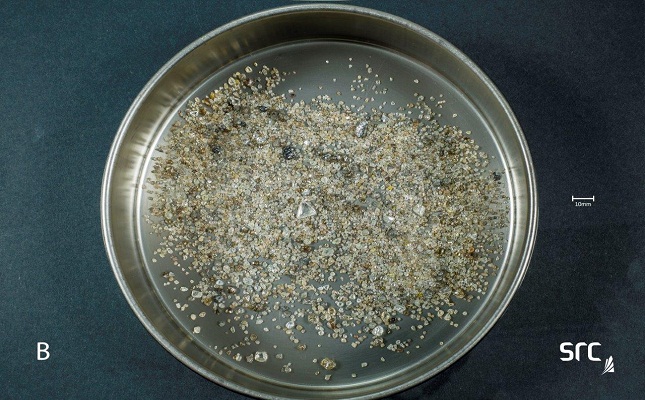 (IDEX Online) – Kennady Diamonds Inc. reported that 737.6 carats of diamonds (+0.85mm) were recovered from 262.6 tonnes for a sample grade of 2.81 carats per tonne from its large diameter drilling program on the Faraday 2 kimberlite.
The result is similar to the mini-bulk sample grade of 2.69 carats per tonne reported in 2016, the miner said. In this latest result, 45 diamonds of one carat or greater were recovered of which 12 are described as white. The largest stone is a 4.72-carat white/colorless octahedron with minor inclusions.
President and CEO of Kennady Diamonds, Dr. Rory Moore commented: "We are delighted with this excellent result from Faraday 2, as it confirms the high diamond grade suggested by the 21 tonne mini-bulk sample completed in 2016. Moreover, even with the limitation of the small parcel size, the size distribution and quality characteristics of the Faraday 2 diamonds are better than the diamonds recovered from Kelvin to date. These results firmly support the potential for Faraday 2 to add additional high-grade diamond resources to those already established for the Kennady North Project."
The four largest diamonds recovered from the Faraday 2 bulk sample were:
4.72 carat white/colorless octahedron with minor inclusions

4.28 carat off-white transparent octahedron with noticeable inclusions;

3.45 carat brown transparent octahedron with noticeable inclusions;

2.69 carat white/colorless, transparent tetrahexahedroid with noticeable inclusions
Dr. Moore added: "The Faraday 2 diamond parcel is notably higher in white diamonds compared to Kelvin, with the additional presence of fancy yellow stones extending into the carater size range. Moreover, the high quality white gem population observed at Kelvin is well-represented at Faraday 2, with a higher incidence of well-formed octahedral crystals in the larger size fractions."
Results from the Faraday 3 and 1 bulk samples are expected to be available by mid-June, following which the services of WWW International Diamond Consultants (Antwerp) will be retained to provide an independent valuation of the Faraday bulk sample diamonds together with size frequency distribution and revenue models. This work is expected to take place in July through early August.