DEF Presents Awards to Helzberg Diamonds, Oyelowo, Machel Mandela
June 08, 17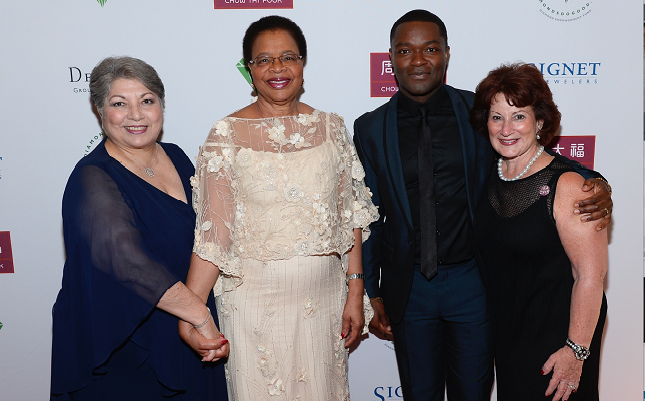 (IDEX Online) – More than 450 industry leaders from around the world attended the Diamond Empowerment Fund (DEF) gala dinner held during the JCK Show Las Vegas.
DEF has raised more than $1,060,000 to provide scholarships and assistance to empower young people globally.
Anna Martin, DEF President and V.P Global Development and Beneficiation, GIA, said: "This event symbolizes the collective good the diamond and jewelry industry continues to do in communities around the world where they do business. Not enough consumers are aware of this positive fact."
Helzberg Diamonds was awarded the Diamonds Do Good Corporate Legacy of Philanthropy Award for its outstanding contributions in bettering communities across the United States. "We are in the business of celebrating love," says Beryl Raff, CEO of Helzberg Diamonds. "As a business we share this love by building up communities across the nation."
Award winning actor and global philanthropist, David Oyelowo was awarded the Diamonds Do Good International Vanguard Award for his dedication to empower communities in Africa. "Enabling girls to be educated will change the dynamics of persistent poverty in countries like Nigeria where out of a staggering 10.5 million out-of-school children, the majority are girls," said Oyelowo.
Graca Machel, former first Lady of Mozambique and South Africa and widow of former South Africa President Nelson Mandela, was awarded the Diamonds Do Good Global Humanitarian Award for her international leadership to transform the lives of women and girls throughout the world. "I am incredibly humbled to represent the millions of minds, hearts and hands that have sown seeds over the years to empower Africa's women and children. I graciously receive this Global Humanitarian Award from the Diamond Empowerment Fund on behalf of those who have worked tirelessly with me to accelerate social change," Machel said.
The event marked the 10th anniversary of the Diamond Empowerment Fund which was co-founded by Russell Simmons, visionary and business mogul, after inspiration and encouragement from Nelson Mandela and Graca Machel in their home in Mozambique.
Pictured above: Anna Martin, Graca Machel Mandela, David Oyelowo and Beryl Raff.