Mountain Province Sells $21.1M of Rough at Fifth Sale From Gahcho Kue
June 27, 17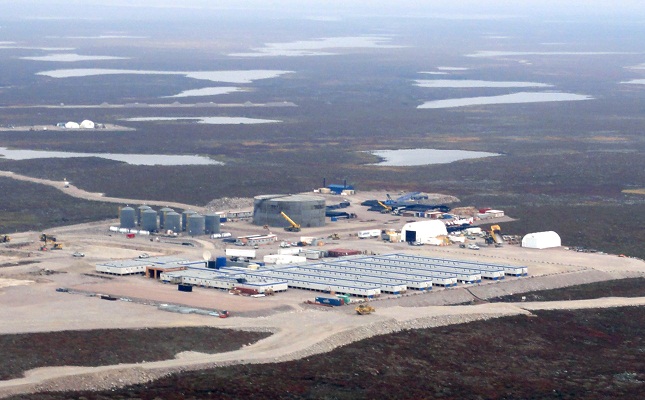 (IDEX Online) – Mountain Province Diamonds Inc. reports the sale of 222,000 carats of rough stones for $21.1 million at $95 per carat at its fifth diamond sale of goods from Gahcho Kué.
That compares with $12.7 million at the previous sale.
"The results from the fifth sale are elevated in part from the inclusion of a selection of the fancies and specials won by the company otherwise scheduled for inclusion in the sixth sale, which will occur in the second half of July. Excluding these high value diamonds, the average value realized per carat was $75. This reflects the finer size and lower quality distribution of this particular sales offering, as the company indicated in May would be the case in connection with its first quarter reporting."
The fifth sale represents the company's strongest sale performance to date. "The financial result was matched by several strong performance measures, including the number of buyers attending, the number of attendees placing bids and the average number of bids per lot."
Reid Mackie, Vice President Diamond Marketing, said: "The June tender sale was our best attended to date and produced a record number of bids. Repeat customers won 75 percent of lots, indicating that the rough market's understanding of our diamonds' performance at manufacturing is positive and well on track."
David Whittle, Interim President and Chief Executive Officer, said: "With the winterization improvements successfully completed, the mine has made good progress in catching up on production tonnage relative to plan. As a result, and combined with the notably positive recovered grade performance, year-to-date carat production has fully caught up to plan. Given the positive experience in our diamond marketing efforts, the trend leading in to the second half of our first year of production is encouraging."
Operationally, ore production rates have been strong, the diamond processing plant is functioning at and above nameplate capacity, and total production costs to date are broadly consistent with budget. Regarding pit operations, the mine operator, De Beers Canada, has advised that for geotechnical reasons a push-back of the east wall of the 5034 pit is required, and initial work on that push-back has now commenced. While the operator has not yet determined the full cost impact, it is expected that the main effect will be spread over the next three years. Further information will be provided once the determination has been completed.
The company declared the commencement of commercial production on March 1. It will report its first mine revenues and gross margins in its second quarter financial results, reflecting the sale of March production under this fifth diamond sale event. Second quarter financial results are expected to be released on or about August 10.