Jewelers for Children Raises $1.95M for Charity Partners
June 06, 18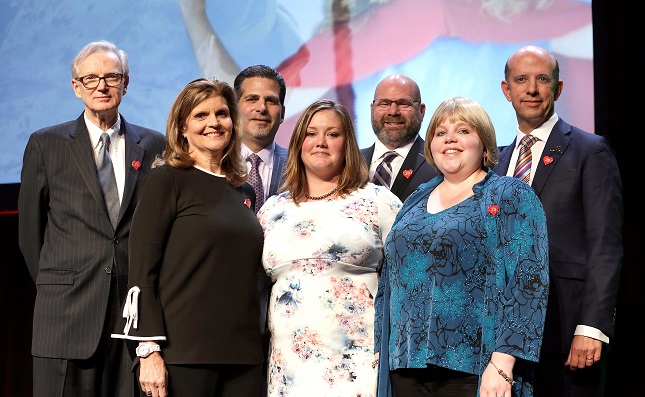 (IDEX Online) – Jewelers for Children held its 20th annual Facets of Hope event on June 3, announcing that $1.95 million had been raised to support their charity partners in the year ahead bringing the cumulative total since 1999 to $55.5 million that has been donated on behalf of the industry to help children in need.
"What an amazing milestone for the charity, and particularly for our industry," said Pam Mortensen, JFC board chair. I don't think any of us could have imagined 20 years ago that we would be marking this occasion and to be announcing such an amazing number."
The organization recognized Bill Luth, Executive General Manager/Executive Vice President, Kay Jewelers at Signet Jewelers, and Jeffrey Cohen, President and CEO of Citizen Watch America.
The event also included a watch give-away as well as a silent and live auction. Attendees bid on original paintings by talented artist Reena Ahluwalia and Shreya Mehta. A gold and diamond replica of the Star Wars droid BB-8 was also auctioned.
Mortensen announced that Jewelers for Children was pledging $1.95 million to charity partners in the year ahead, with commitments to St. Jude Children's Research Hospital of $425,000, Make-A-Wish America $525,000, the Elizabeth Glaser Pediatric AIDS Foundation $425,000 and $375,000 to the National CASA Association. Also announced was a commitment of $75,000 to Make-A-Wish International for wish granting in India, and $25,000 to the Santa-America Fund. The organization is also setting aside $50,000 to reward in a local grants, social media voting campaign to be held later this year. In addition, the charity will make a donation to the Organization for Autism Research in the amount of $50,000. This is a new charity for JFC and start of a new relationship.