Rio Tinto Showcasing 2018 Pink Diamonds Tender in Hong Kong
September 13, 18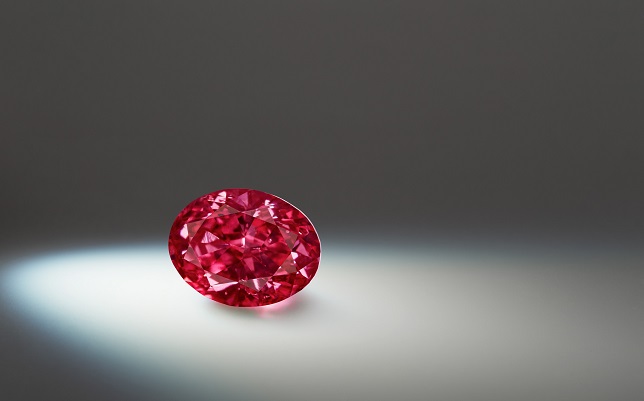 (IDEX Online) – Rio Tinto's Argyle Pink Diamonds Tender is being showcased to connoisseurs and collectors from across Asia in Hong Kong.
Headlining the 2018 collection of 63 pink, red and violet diamonds is the Argyle Muse (pictured above), a 2.28 carat polished oval diamond, the largest purplish red diamond ever offered at Tender. "With an unrivalled potency of color, the Argyle Muse will be keenly sought after by collectors and connoisseurs from Asia where the color red is highly symbolic. To add to its rarity, the Argyle Muse originated from a 7.51 carat rough diamond that yielded a second purplish red diamond for inclusion in the 2018 Tender.
Rio Tinto Diamonds global marketing director Josephine Johnson said: "We have seen, and continue to see, strong demand in the Asia market for these rare diamonds and an appreciation of their value as works of art and great beauty."
Rio Tinto's Argyle diamond mine in the far north of Western Australia produces virtually the world's entire supply of pink, red and violet diamonds.
The 63 diamonds in the tender weigh a total of 51.48 carats – including five fancy red diamonds, two purplish red diamonds and three violet diamonds.
Lot 1: Argyle Muse, a 2.28 carat oval shaped fancy purplish red diamond

Lot 2: Argyle Alpha, a 3.14 carat emerald shaped fancy vivid purplish pink diamond

Lot 3: Argyle Maestro, a 1.29 carat square radiant shaped fancy vivid purplish pink diamond

Lot 4: Argyle Alchemy, a 1.57 carat princess shaped fancy dark gray-violet diamond

Lot 5: Argyle Odyssey, a 2.08 carat round brilliant shaped fancy intense pink diamond

Lot 6 : Argyle Mira, a 1.12 carat radiant shaped fancy red diamond
The 2018 Argyle Pink Diamonds Tender will be taken to New York after Hong Kong, with bids closing on 10 October.