Organizers say September Hong Kong Jewellery & Gem Fair is on track
August 28, 19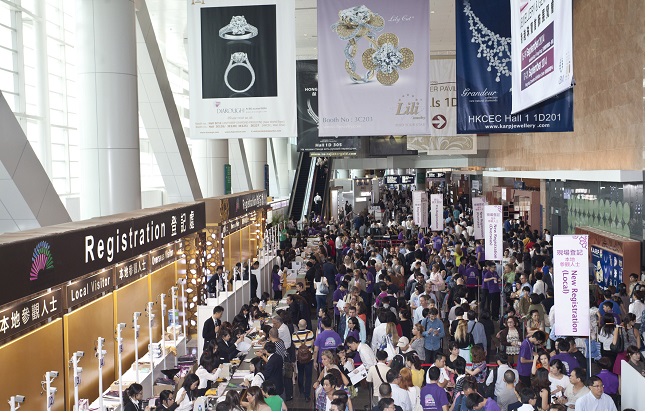 Management of the September Hong Kong Jewellery & Gem Fair said that preparations for what is known as world's leading jewelry marketplace - are in full swing. The event will be held from September 16 to 20 at the AsiaWorld-Expo (AWE) and from September 18 to 22 at the Hong Kong Convention & Exhibition Centre (HKCEC).
Show organizer Informa Markets said that beyond the show floor, the September Fair would deliver a rich program of events that aims "to inspire visitors looking for fresh ideas to boost their bottom lines and stay on top of their inventories for the peak selling season."
Informa Markets, organizer of the show, also said that it recognizes and is addressing the concerns expressed by some exhibitors and visitors on security matters and the fair's operational requirements in the wake of recent public incidents in Hong Kong. Updates are also being regularly posted on the show's official website and social media platforms.
Underscoring its commitment to provide a secure, safe and enjoyable trade show experience to exhibitors, visitors and its staff, Informa Markets says it is closely monitoring the situation, and continues to finetune a series of contingency plans in collaboration with the venue management teams, contractors and suppliers.
"These measures are designed to respond to potential incidents that may happen outside the normal range of the show's operations, including special move-in and move-out arrangements at AWE and HKCEC, and enhanced transportation arrangements for participants," says Celine Lau, Director of Jewellery Fairs at Informa Markets.
International visitors will also find that the airport is operating normally. The Airport Authority has obtained an injunction order against activities that interfere with the proper use of the airport except in the designated areas.
During the show, the Gemological Institute of America (GIA) will mark the institute's 88th anniversary and GIA Hong Kong's 25th year in the city by hosting a reception on September 16 at AWE.
Also, the JNA Design Conference, scheduled for September 19 at the HKCEC, will give visitors the opportunity to connect with some of the most creative and innovative jewelers, designers and gemstone specialists in the industry.