Richline Group to Sell 'Grown With Love' Lab Grown Diamonds
November 07, 18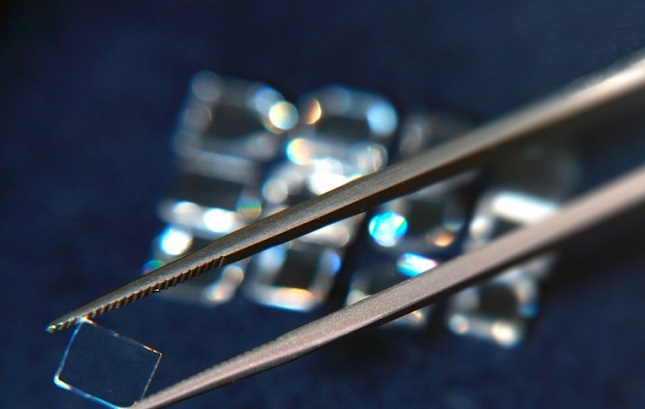 (IDEX Online) – Richline Group, a wholly owned subsidiary of Berkshire Hathaway, is partnering with JCPenney and Macy's to introduce Grown With Love, lab grown diamonds this holiday season.
"The category of lab grown diamonds is revolutionizing the diamond industry. As the name implies, these diamonds are grown in a lab and are chemically, physically and optically identical to mined diamonds. The stones are, by nature, conflict-free and grown above ground, with clean technology, that works to lessen environmental impact. They also offer value to the consumer, beyond price. For the same price, a lab grown diamond can be larger or better quality than a mined diamond.
"Lab-grown diamonds follow the same grading standards as mined diamonds and are evaluated based on cut, color, carat and clarity. Richline's core position is that consumers now have a fifth "c" to consider when purchasing a diamond – Choice."
Lindsey Scarlata Woodruff, Vice President of Marketing at Richline Group, said: "What is most interesting and exciting about this category is that it is filling several needs for consumers and aligning with their values. In many cases it offers a higher quality stone for the same money, which is important as expendable incomes are down, people are choosing to spend their money in different ways, and expectations for value are high. This also appeals to a 'conscious consumer' who is seeking purchases that ethically align with their belief."
Michael Milgrom, Sr Vice President, Product at Richline Jewelry, said: "By choosing a lab-grown diamond, future bridal and fashion customers now have a new, conscious choice, and can get a larger or higher quality stone for the same price. And with the most popular season for proposals – and shopping – just around the corner, this partnership is destined to shine."
"The Award Winning Grown With Love Campaign represents a new choice, where there was none before … a choice to never compromise your values," the firm said in a statement. "It is an educational campaign designed to inform consumers of this emerging category, empower them to learn more about their options, and make the choice for themselves. The supportive collateral is designed to disrupt a classic category to draw interest, and includes educational brochures & displays, sustainably sourced packaging, and an unfiltered street captured Diamond Challenge video that explores the power of education."
Grown With Love features a curated collection of both bridal and fashion styling. "We believe that Lab Grown Diamonds are appropriate for every important occasion, and can celebrate both bridal and non-bridal events, even self-purchase," said Woodruff." All diamonds in the Grown With Love collection are certified by the International Gemological Institute, which uses a scientific system to evaluate a diamond's cut and then issues a certificate documenting the characteristics of the stone. The fine jewelry professionals at Richline's partner retailers including JCPenney and Macy's will receive dedicated training on the integrity, grading and analysis of these precious lab grown stones. Consumers will find Grown With Love educational collateral both in store and online to help them become informed of their new choice."
Ramona Genao-Archibald, Executive Vice President of Sales and Merchandising for Richline Jewelry, added, "We are not making the decision for the consumer, we are providing information so that they can make the choice that is best for them."
Mark Hanna, Richline Group Chief Marketing Officer, stated, "Richline is proud to be presenting an educated choice. We truly, continually believe in the rarity and romance of mined diamonds. However, the consumer now has an option to judge value and social responsibility as a personal choice."