President Putin Opens High-Tech KGK Polishing Plant in Vladivostok
September 13, 17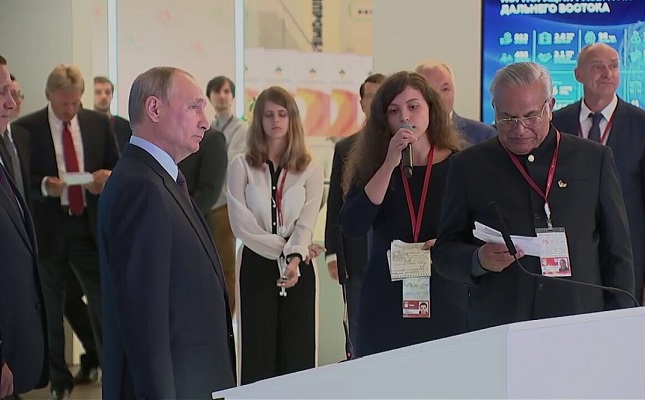 (IDEX Online) – Russian Federation President Vladimir Putin has opened India's KGK Group's high-tech diamond cutting and polishing factory in Vladivostok.
The 1,555 sq. meter factory, which has a manufacturing capacity of 150,000 carats per year, incorporates the latest diamond cutting and polishing infrastructure and will employ 400 staff, KGK said in a statement, adding that the plant cost RUB 2.8 billion (around $50 million). "This advancement is yet another manifestation of the natural progression of KGK's global manufacturing operations already spread across India, South Africa, Russia, Botswana and Namibia."
"We discussed just a year ago this co-operation with [Indian PM] Narendra Modi," Putin said in his address. "And it is upon his initiative that our co-operation in this area is developing dynamically, thanks to his decision to develop co-operation in diamond sector. We have almost doubled the supplies of diamond raw materials to Indian facilities. ALROSA is ready to broaden co-operation and deepen it even further, and we will of course welcome all efforts taken by you in Russia. We will always support such initiatives," he added.
"Russia has been home for KGK for 13 years and being a corporate citizen of the region we understand its culture and people," said Sanjay Kothari, Vice Chairman of KGK. "At KGK we see enormous potential in Far East region of Russia and we are firm to make it an outstanding hub for the diamond and jewelry business. We are already in discussion with our clients from Asia Pacific who have shown interest in this region."
KGK Managing Director Sandeep Kothari said: "We are impressed with the cooperation of the government authorities and the fiscal incentives offered in Vladivostok. This has given us the confidence to augment our portfolio of diamond factories by setting up a unit here. We share the same vision as that of the leaders of the nation of promoting investments, creating value addition and job creation in the region where we operate and I am glad that we have been given the opportunity to contribute to the drive."
Meanwhile, KGK Partner & General Director Vithal Ramani said the firm had signed a long-term contract with Alrosa for rough supplies. KGK signed other agreements as well, including a cooperation agreement with Sergey Mikhaylovich Darkin, the Governor of Vladivostok, and other government agencies as well as a framework agreement with VTB Bank on financial cooperation.
The opening event took place during the Third Eastern Economic Forum last week, with Sanjay Kothari participating as a panelist in a forum entitled 'Russia–India: identifying new opportunities', while Sandeep Kothari was a panelist in a seminar on 'Vladivostok – city of diamonds: the start of gem cutting'